In the mid-1800s, Henry Deringer began manufacturing what would eventually be called the Derringer pistol. A derivative of his name by those who copied his work—a single-shot, short-barreled, large-caliber pistol using first the flintlock mechanism and later the percussion mechanism. A very small percentage of Deringer's pistols were double-barreled. Those few were normally over/under configurations. Fast forward a few hundred years and the firearm industry would eventually be blessed with Bond Arms derringers.
In fact, the pistols sold as fast as they were manufactured. Copies followed and soon there were more derringers than you could shake a stick at. It appears none of Deringer's pistols were chambered for self-contained cartridges, explaining why his pistols typically sold in pairs. However, in 1866, Remington's Model 95 derringer rectified that by using the .41 Rimfire. Today, when folks think of a derringer, there's a very good chance it's one of the Bond Arms derringers they have in mind. In fact, the company's double-barreled handguns are so prolific that if you go to a well-attended range, the odds are at least one person there will be shooting a Bond pistol, and others might have one in their pocket. At Single Action Shooting Society (SASS) matches, almost everyone there should have one—Bond Arms designs have claimed a SASS championship more than 15 times.
Modern Upgrades
What makes Bond Arms' pistols so popular? All Bond pistols are crafted to identical, tight specifications and have a lifetime warranty. The guns also offer quick loading and maintenance, stainless steel components and interchangeable barrels of various lengths. All barrels, except those chambered for 9mm, .40 S&W, 10mm and .45 ACP, have automatic extractors. Semi-auto rounds have to be plucked from the chambers. There are a wide variety of chamberings available for the company's double-barreled handguns, from .22 LR through .45 ACP and .45 Colt/.410 shotshell. Bond Arms also offers a removable triggerguard (for most pistols) and a cross-bolt safety to block the hammer.
RELATED STORY: Bond Arms Backup – A Classic Derringer with 21st Century Features
During the company's work to bring derringers into the 20th century, it did not overlook the trigger. Derringer triggers pivot at a point above the hand on the grip, and as the trigger moves to the rear it also moves down, which is different than most other firearms. With a small pistol, everything can affect shootability, including the trigger mechanism. Bond Arms' original ministrations produced a trigger that always felt somewhat better than other derringers to me.
Because the folks at the Granbury, Texas, facility continue to refine their designs, in 2012 the company modified its trigger and hammer design. While the changes are not dramatic, they add to the comfort and ease of shooting. Hammers were minimally widened to make getting (and keeping) a thumb's purchase on it easier. Similarly, by slightly modifying the shape of the trigger, the feel of it became better. Trigger pulls typically fall between 6 and 7.5 pounds, and those I have handled dropped the hammer with no creep or stacking and a clean break.
Interchangeable Barrels
Bond Arms derringers feature a patented interchangeable barrel system that allows the user to easily install any one of the company's 36 different barrels with 14 caliber combos from .45/.410 to .22 LR. In other words, you'll never have to worry about ammo shortages again. Changing barrels only requires opening the hinging action and removing the single hinge screw with a 1/8-inch Allen wrench. Replacement barrels come with sights and spring-loaded extractors preinstalled.
Mechanical Safeties
Bond Arms pistols also feature several mechanical safeties to protect against accidental discharges. First, the patented rebounding hammer acts as a half-cock position and blocks the hammer from the firing pins. It also acts as a hammer drop safety so the pistol will not go off if is dropped on the hammer with a live round. The hammer will only engage the firing pins if the trigger is completely depressed.
Twin Firing Pins
The twin firing pins retract automatically to help prevent accidental discharges when loading. A crossbolt safety is also included above the grip. It can be conveniently pushed to the "off" position by the thumb of a right-handed shooter. It completely prevents any hammer contact with the firing pins when activated. The crossbolt safety can also be locked in the "on" position with an Allen wrench. An Allen wrench can also be used to activate an internal locking device, located at the top of the frame next to the trigger, to lock the action and prevent unauthorized use. Finally, all Bond Arms pistols have an optional triggerguard that is removable.
Using a Bond Arms derringer is pretty straightforward. Simply rotate the frame-mounted reloading lever downward, then rotate the barrel assembly upward, allowing the spring-loaded extractor to push the cartridges out far enough to grip and remove them, or load new cartridges. To fire, just firmly close the barrel assembly, cock the hammer and squeeze the trigger. The hammer face features a self-adjusting, spring-loaded block that alternates the firing sequence between the top and bottom barrels each time the hammer is cocked.
Leading The Pack
The Texas Defender, Ranger II, Snake Slayer, Snake Slayer IV, Patriot, and Backup are among the company's most popular double-barreled designs. Lest you become confused, all Bond Arms guns, newer and previous versions, are still double-barreled derringers that have been precision-built like the proverbial bank vault door.
The Texas Defender ships with 3-inch barrels chambered in .45 Colt/.410 shotshell. Additional barrels in other calibers, however, can be purchased. It wears laminated black ash or rosewood grips and a triggerguard. With a weight of 20 ounces and overall length of 5 inches, I have always found the Texas Defender to balance very well and ride well in pockets as well as on belts.
The Patriot offers custom rosewood grips and all stainless steel construction. The grips are laser-engraved with a patriotic motif of a bald eagle superimposed on an American flag. This pistol can fire both .45 Colt rounds as well as .410-gauge shells through its 3-inch barrels.
The 23.5-ounce Bond Ranger II and Snake Slayer IV double-barrels wear 4.25-inch barrels and have extended grips. Barrels are either chambered for .45 Colt/.410 or .38 Special/.357 Mag. Meanwhile, the Snake Slayer offers extended grips, a 3.5-inch barrel with.45 Colt or .38 Special/.357 Mag chamberings, a 5.5-inch overall length and a weight of 22 ounces. Black ash grips wearing inlayed stars adorn the Ranger and Ranger II pistols, along with custom driving/concealed-carry holsters. The Snake Slayer and Snake Slayer IV feature rosewood grips.
The Backup is somewhat different from other Bonds. The frame is matte black, while its 2.5-inch, matte stainless barrels are chambered in .45 ACP. The Backup is also available with replacement barrels in .38 Special/.357 Mag, .45 Colt and .40 S&W.
Newer Bond Arms Derringers
Newer models released by Bond Arms over the last few years include the Rustic Ranger, the Girl Mini and six models made specifically for use in California. The Rustic Ranger is a special-edition take on Bond's popular Ranger II, and it's built just for Cabela's. Both the Ranger II and Rustic Ranger pistols come with removable triggerguards. Their 4.25-inch barrels can be chambered for .45 Colt/.410 shotshell.
For the Rustic Ranger, Bond kept the satin finish on the stainless steel, the removable triggerguard and the bulk of the traits found on the Ranger II. To distinguish the Rustic, the pistol arrives with extended rosewood grips wearing a two-tone star and a naturally finished Driving Holster. The slight reddish hue of the holster's finish looks nice with the rosewood grips.
Bond's Girl Mini will never be mistaken for a Rustic Ranger! It arrives with a 2.5-inch barrel chambered for .38 Special/.357 Mag (but can accept the other Bond barrels), no triggerguard and pink wooden grips. Overall length is 4.5 inches and weight of around 18 ounces, compared to the Rustic Ranger's 6.25-inch length and 23.5-ounce weight. The Girl Mini presents an overall appearance that is similar to the Remington Double Derringer of the 1860s.
California-Compliant Models
Then we have the California Models designed to meet the state's requirements: the CA Big Bear, the CA Papa Bear, the CA Mama Bear, the CA Brown Bear and the CA Defender and CA Backup. Each California model contains the same traits in the non-California models, however the California guns are designed to only accept barrels from other CA-series pistols.
The CA Mama Bear, CA Defender and CA Backup have 2.5-inch barrels and ship chambered in 9mm, with the first two weighing 20 ounces and the CA Backup at 19 ounces. Grips for the CA Mama and CA Defender are wooden and not extended, with each offering pink ash and rosewood grips with an embossed star. The CA Backup has rubber grip panels with a bear emblem.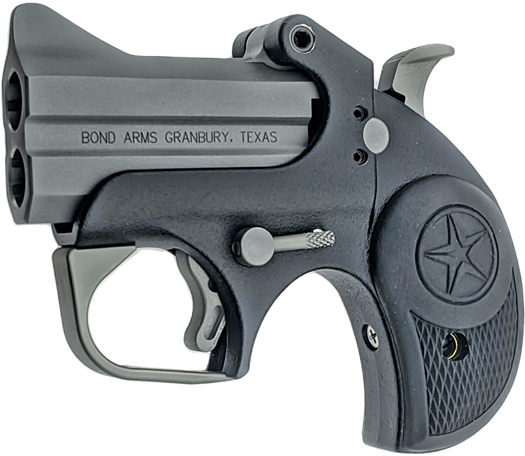 RELATED STORY: Bond Arms' New California-Legal Derringers
Bond's Papa, Big and Brown Bears ship chambered for .45 LC with 3-inch barrels and a weight of 22 ounces. All three wear extended grips but the first two wear black rubber with a bear emblem. Big Bears have matte-black frames. Grips for Brown Bears are custom rosewood with bear emblems.
That is a whirlwind tour of some of Bond Arms' new and established double-barrel handguns. If you are in the market for an ultra-compact backup, be sure and check out Bond Arms' deep-cover handguns.
For more information, visit https://www.bondarms.com or call 817-573-4445.
Didn't find what you were looking for?