While compact handguns have been making significant strides in the ever-popular CCW category of firearms, there is just something enduringly appealing about tried-and-true snub-nose revolvers.
With its simple operation, minimum of controls, and rock-solid reliability, snub-nose revolvers are a great choice for any self-defense user. And with top makers churning out offerings that retain the solid benefits of the traditional revolver while adding cutting-edge materials and/or design, there are more to choose from than at any time in the past.
From the micro-sized North American Arms series of snub-nose revolvers to ultra-powerful centerfire magnum alternatives, there is likely a snub-nose revolver out there ideal for your needs.
13. Kimber K6S
Kicking off our list is the Kimber K6S. This stainless steel, 6-shot, .357 Magnum revolver weighs in at just 23 ounces. Shooters will also appreciate the ergonomic rubber grip, smooth match-grade trigger, and sleek satin finish.
12. Ruger SP101
Never say Ruger doesn't offer plenty of options for a snubbie. The SP101 is available in .357 Mag, .38 Spl +P, and 9mm Luger chamberings. Aesthetically, shooters can choose models that have a combination of rubber and wood or rubber and synthetic grips, alloy steel or stainless steel construction, and blued or satin stainless finishes. The 9mm and hammerless .357 stainless steel variants weigh in at 25 ounces while the rest weigh 26 ounces. All barrels are 2.25 inches long.
11. Colt Night Cobra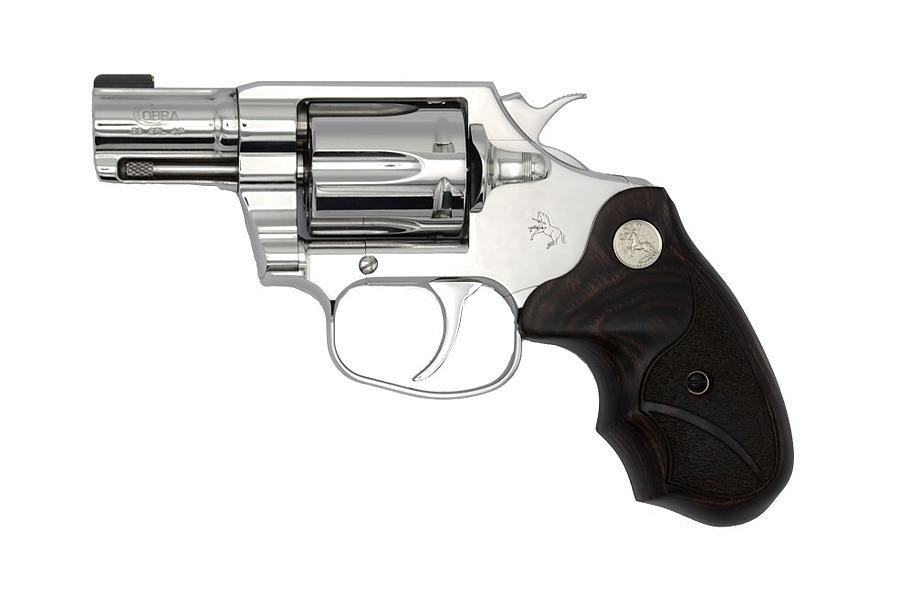 The 6-shot Cobra signifies Colt's long-awaited return to the production of double-action revolvers. Shooters will appreciate having a choice of five different variants with different finishes — choose from sleek ion bond stainless steel, smooth matte stainless steel, or shiny stainless steel. Variants possess different grips including walnut, G10, and rubber. The compact frame and 2″ barrel make the Cobra a perfect addition to this list. If .38 is your favorite caliber, consider yourself in luck — the Cobra is chambered in .38 Special and accepts +P.
10. Rock Island Armory Spurless Model 206
Rock Island Armory offers the Spurless Model 206, a .38 Special snub-nose ready for deep-cover carry. Packing in six rounds, the 2-inch-barreled revolver features a full-length underlug and a bobbed hammer for ease of draw and concealment.
9. Charter Arms Undercover DAO
The .38 Undercover DAO from Charter Arms packs a lot of performance into a compact and affordable package. Sporting a bobbed hammer for snag-free drawing, the double-action-only (DAO) snub-nose revolver features a 2-inch barrel and a five-shot capacity of .38 Special +P rounds. The Undercover DAO weighs 16 ounces and has a full underlug under the barrel that protects the ejector rod from damage. Checkered black rubber grips complete the package.
8. Chiappa Rhino
Representing a revolutionary revamp of the classic revolver concept is the Rhino series from Chiappa. Rather than having the barrel align with the uppermost firing chamber, the Rhino moves the barrel to the bottom to align with the lowest firing chamber. This results in a reduction of both perceived recoil as well as muzzle flip. The Rhino 20DS in hard chrome, chambered in .357 Magnum, offers shooters an ultra-compact and powerful version of the Rhino with an attractive finish and a short, 2-inch barrel.
7. NAA Sidewinder
Offering an interesting take on the micro revolver design is NAA's Sidewinder revolver in .22 Magnum. While the majority of the company's revolvers feature cylinders that must be removed to be reloaded, the Sidewinder features a swing-out cylinder design for fast reloading. The compact snub-nose revolver has a five-round capacity, stainless steel construction, and an ultra-light weight of only 6.7 ounces.
6. Charter Arms Undercover Lite
Combining .38 Special +P power with a compact and lightweight package is the Undercover Lite from Charter Arms. Featuring a lightweight aluminum frame mated up with a steel cylinder and barrel, the concealed-hammer Undercover Lite weighs only 12 ounces. The five-shot snub-nose revolver sports a DAO system of operation along with a low-visibility finish. A comfortable, grooved rubber grip offers both compact dimensions and enhanced control.
5. NAA Magnum Snub
North American Arms (NAA), king of the micro revolver, provides shooters with some of the smallest self-defense revolvers in the world. A classic example of this is its rimfire .22 Magnum Snub, a five-shot .22 Magnum revolver that measures a scant 4.6 inches in overall length and weighs only 5.9 ounces. Manufactured from stainless steel, the single-action revolver sports a short 1.12-inch barrel for deep-cover concealment.
4. Ruger LCR
Melding the traditional with the ultra-modern, the Ruger LCR combines cutting-edge design and materials with the classic revolver platform. Weighing a scant 13.5 ounces, the five-shot .38 Special +P handgun features a polymer fire control housing and a DAO system of operation with a concealed hammer. The trigger, which the company claims provides a smooth and non-stacking pull, features a friction-reducing cam.
3. M&P Bodyguard 38 Crimson Trace
The M&P Bodyguard 38 Crimson Trace is a small-framed .38 Special +P revolver that features a five-shot capacity. The concealed-hammer, DAO revolver employs both polymer and aluminum in its construction for light weight and long-term strength. It features a short, 1.9-inch barrel and an ambidextrous cylinder release. An integrated Crimson Trace red laser unit is located on the right side of the frame.
2. Ruger LCRx
Based on the popular LCR snub-nose revolvers from Ruger, the .38 Special +P LCRx takes the ultra-modern revolver design of the LCR and adds an exposed hammer. While the rest of the LCR line features a concealed-hammer design, the LCRx's exposed hammer allows shooters the option of thumbing back the hammer for a light single-action trigger pull. The LCRx is compatible with all standard LCR accessories.
1. M&P 340
Chambered for the powerful .357 Magnum cartridge, the M&P 340 is one of the most advanced members of the popular J-Frame family. Built on a lightweight scandium frame, the concealed-hammer revolver features DAO operation and a five-shot capacity. It comes equipped with an XS Tritium Big Dot front sight on its 1.8-inch, aluminum-shrouded, stainless steel barrel. The revolver weighs in at a feathery light 13.3 ounces and is ready for deep-cover duty.
For More Information
Kimber
https://www.kimberamerica.com
Rock Island Armory
https://us.armscor.com
Charter Arms
https://www.charterfirearms.com
Chiappa Firearms
https://www.chiappafirearms.com
North American Arms
https://www.northamericanarms.com
Smith & Wesson
https://www.smith-wesson.com
Related Stories
The Best Ways To Carry Backup Ammo For Your Wheelgun
Using Single-Action Revolvers for Self-Defense
Didn't find what you were looking for?