Industry-Leading First-Aid Kits for Unexpected Injuries
Although the Core Four categories of survival—fire, water, shelter, and food—are extremely important, don't ever overlook the need for quality first-aid kits. A wound can become infected, loss of blood can make you faint, dizzy, and lightheaded, and burns and insect bites can affect you both mentally and physically. Don't put yourself in any of these harrowing situations by not having the proper first-aid gear.
From compact mini first-aid kits to full-sized, multi-person packs, finding the one that suits your particular needs is your first objective. From there, your main goal is to always have it nearby. Let's be honest: When trekking through prickly underbrush, climbing across uneven ground, and "playing" with fire, accidents can and often do happen.
Making the correct choice of first-aid kits involves many factors. From selecting one that's environment-specific to having enough supplies to meet the needs of your group or family to budgeting properly so as not to break the bank, a bit of pre-purchase research can be hugely beneficial. If you're unsure of where to start, this article has you covered with some incredibly diverse first-aid kits for you to review.
1. Adventure Medical Kits Adventure Dog Series: Trail Dog Medical Kit
You may get injured while hiking, sure, but your four-legged trail companion might also have an unexpected accident. No need to turn back when you can patch up minor injuries quickly and efficiently. This kit features a wide range of canine-centric supplies, such as gauze and bandages, eye wash, antiseptic wipes, and a useful splinter and tick remover. A pet first-aid manual accompanies the kit, so you'll have assistance in hand when accidents occur. (adventuremedicalkits.com)
2. Adventure Medical Kits Sportsman 200
Somewhere between a small kit and an oversized one stands the Sportsman 200. This mid-level kit offers a number of quality first-aid items specifically intended to serve fishermen, hunters, backpackers, and other lovers of the great outdoors. From shears and tweezers to medications and wound care to antiseptic wipes and antibiotic ointments, this kit has everything you need to keep your adventure going, no matter what unforeseen accident occurs. Ideal for one to four people for up to four days, this kit features a reflective design that allows for its quick detection in the dark. Containing specific backwoods wound-care items and a Wilderness and Travel Medicine guidebook, you won't want to leave home without it. (adventuremedicalkits.com)
3. Adventure Medical Kits Sportsman 300
When you're deep in the woods, high on a mountaintop, or lost in the vastness of a large prairie, medical help is far away. However, this comprehensive kit picks up the slack, providing aid for serious injuries and mishaps. Loaded with supplies and featuring a detachable field-trauma kit, the Sportsman 300 will cover a large family or small group if someone gets cut, trips and falls has a headache or body ache, fractures a bone, or sustains one of the numerous other outdoor injuries.(adventuremedicalkits.com)
4. Adventure Medical Kits Ultralight/Watertight .7 Medical Kit
Light on weight but loaded with much-needed first-aid gear—that's the Ultralight/Watertight .7 in a nutshell. This waterproof kit, for use in both land and marine environments, contains a plethora of supplies to patch you up when an unexpected accident occurs. Its interior supplies include bandages and gauze of all sizes, gloves, blister-care products, duct tape, and fracture bandages, as well as medications and wound-care items. Weighing in at just 5.8 ounces, this little pack goes a long way when first aid is needed. (adventuremedicalkits.com)
5. DAN First-Aid Backpack
Most first-aid kits are useful but take a hand to carry. Not this one! Just sling it over your shoulders and enjoy hands-free travel with a plethora of items specifically suited to treat minor injuries. Some of its contents include dressing gauze, a tourniquet, closure strips, iodine, bandages, pain-relief medications, and scissors. Need help or under stress? Don't fret; instructional cards are included to guide you through. (danboater.org)
6. DAN Marine Med Kit
This water-resistant unit is ideal for marine settings but can be used equally well wherever and whenever minor injuries occur. Its bright-red outer shell is noticeable against sand or water backdrops, while its interior overflows with useful first-aid items. The assortment includes a pocket mask, CPR barrier, trauma pads, syringe, bandages, gauze, gloves, sterile dressings, and much more. Whether on land or at sea, you're covered! (danboater.org)
7. Lifeline Base Camp First-Aid Kit
You don't have to be climbing a mountain to use this Base Camp first-aid kit. In fact, whether you're in the jungle, the woods, the plains, or yes, even the mountains, the contents of this kit will come in handy for minor medical mishaps. Guided by the included first-aid booklet, you can use the numerous bandages, gauze pads, antiseptic ointments, prep pads, and other tools to treat injuries on the spot without the need for professional help. If the injury is more severe, then this 171-piece kit can buy precious time with a quick patch-up until you can get to a medical station. (lifelinefirstaid.com)
8. Lifeline Realtree Deluxe Hard-Shell Foam First-Aid Kit
A durable shell, a convenient briefcase-style handle, and everything you need to patch up minor injuries outdoors—that's the Realtree first-aid kit. With 121 pieces including bandages, gauze, cold packs, tape, tweezers, and even an emergency survival whistle, your cuts, scrapes, thorns, and bruises won't be a burden when you're far from home. The Realtree Deluxe's solid-case design will take the hard knocks of outdoor travel and be ready for more whenever unforeseen accidents strike. (lifelinefirstaid.com)
9. Medibag First-Aid Kit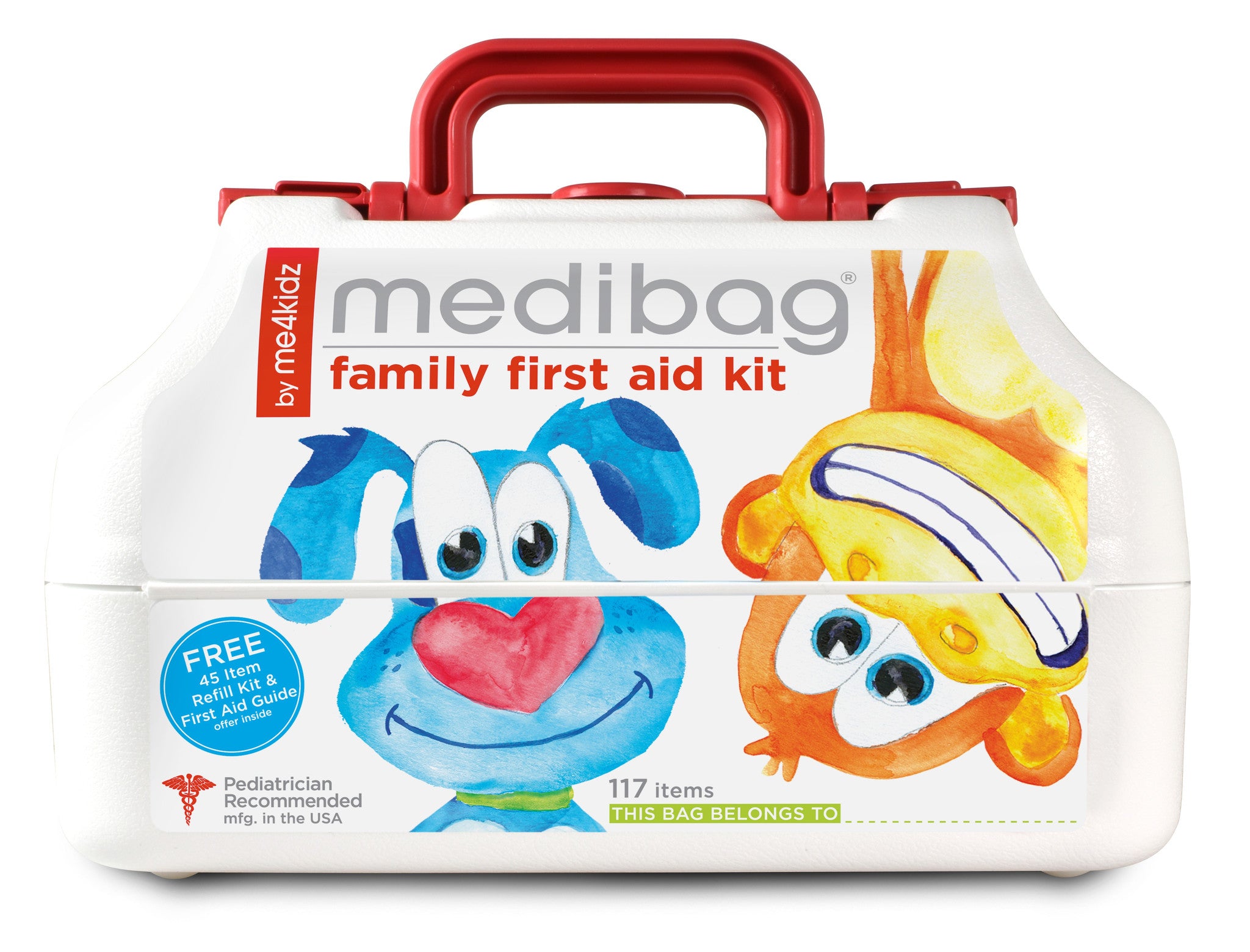 Adults have their first-aid kits, so why should kids be left out? With the Medibag, our little future doctors can have their own med kits and not be frightened of their contents. With kid-friendly characters and fun stickers to keep them amused when you patch up their little ouchies, your young adventurers won't make a fuss when first aid is needed. Kids will be kids, and bumps and bruises are a given. Soften the blow with this fun assortment. There's even a place to write your child's name on the bag. How cool is that? (me4kidz.com)
10. Sawyer Complete Bite and Sting Extractor & First-Aid Kit
By no means a substitute for professional medical help, this compact kit can certainly help to add minutes to the life of the bite or sting victim until assistance arrives. Containing four sizes of suction cups, a syringe, sting-relief pads, and adhesive bandages, this kit allows you to literally pull mosquito poisons from below the skin. Snakebites, depending on the bite location, can also be extracted to a limited degree. Every second counts when a bite occurs! (sawyer.com)
11. Sawyer SAM Splint
This mini-injury-specific kit is ideal for saving time when trying to set a bone injury. No more scouring the ground for sticks that fit the bill. Instead, the aluminum-and-foam splint bends easily into the desired curve and stays firm to keep the arm, wrist, leg, or fingers steady until you reach medical professionals. The kit includes one regular SAM splint, a wrap, two finger splints, tape strips, a quick-reference card, and a useful training DVD. (sawyer.com)
12. Survival Emergency Solutions Snake Bite Kit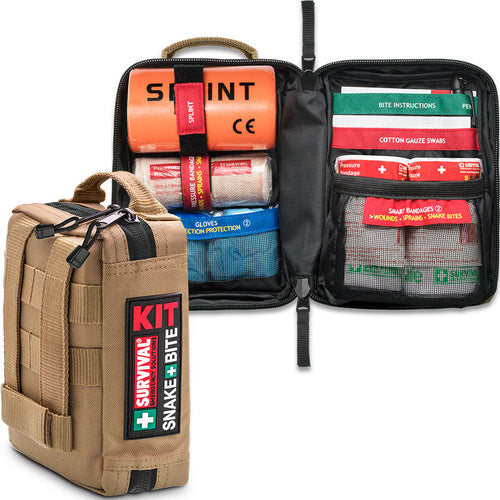 When you're bitten by a venomous snake, minutes matter, and when you have this kit on hand, your chances of survival go up significantly. Containing useful first-aid supplies such as cotton gauze, pressure bandages, and an emergency blanket, you'll keep the victim comfortable and stable until help arrives. The included CPR and snakebite instruction cards give you written and illustrated help when an emergency is unfolding in front of you and your stress levels are at an all-time high. Better to be safe than sorry when traveling through snake territory. (survivalfirstaidkits.com)
13. Survival Emergency Solutions Outdoor Bundle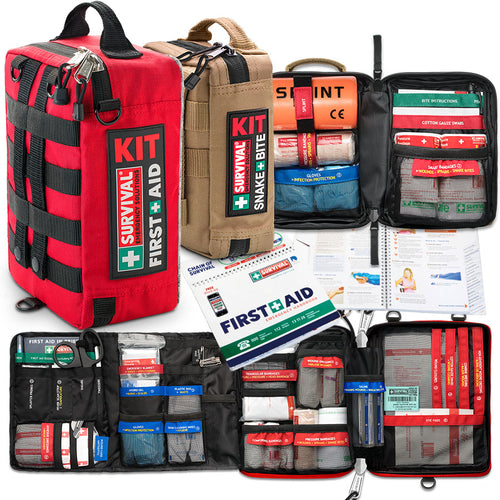 Going big on first aid enables you to treat a great number of ailments and injuries. It also allows you to continue your adventure without turning back or sidetracking for medical help. This bundle of first-aid packs only reinforces this way of thinking. Comprised of a large and intricate kit including the specialized snakebite pack, you'll have the best of both worlds as you venture into dangerous and snake-filled regions. Great organization via clearly labeled compartments inside these packs along with included instructions round out this comprehensive combo package. (survivalfirstaidkits.com)
14. Surviveware Survival First-Aid Kit
Is it a survival kit or a first-aid kit? Luckily for you, it's both. Blending the best of both worlds, you'll have survival gear as well as first-aid supplies easily accessible in the kit's well-organized design. This kit contains such survival items as a premium knife, poncho, glow sticks, paracord, and a tactical flashlight, while on the first-aid front, bandages, antiseptic wipes, shears, a CPR pouch, cotton gauze, and much more are loaded to the max. Even biodegradable wet wipes for hygiene use have a home in this extensive multi-use kit. With dual handle positions for easy carrying and available in red, black, and camo colors, you can prep all your vehicles and your bug-out bags for emergency action. (surviveware.com)
15. Surviveware Small First-Aid Kit
Sometimes good things come in small packages, and this first-aid kit is a prime example of this. Sporting 100 pieces of first-aid supplies, this assembly can fit easily into a glove compartment, backpack, or gear bag without taking up precious space or adding significant weight. Additionally, the bag resists water, while the internal sleeves keep all water out entirely. Chock full of "stuff," this mini kit is perfect for on-the-spot first aid. (surviveware.com)
16. Surviveware Waterproof First-Aid Kit
A few splashes of water or a drop into the lake make no difference when you have Surviveware's Waterproof First-Aid Kit. All aspects of this comprehensive kit are top-notch. From its welded-seam waterproof shell to its hospital-quality gear to its wide array of first-aid supplies. When accidents strike, you want one of these first-aid kits by your side. Its organization system and clearly labeled compartments eliminate guesswork and reduce wasted time when selecting the wrong item. When you think first aid, think Surviveware. (surviveware.com)

Didn't find what you were looking for?