I don't know about you, but my family says that I am impossible to shop for. It's not that I am picky, I just have refined tastes. Unfortunately for them, the stuff I like isn't typically found in the local store. And, since they have little interest in any of the things I like, they have no idea where to start. If you're in a similar situation, discreetly drop your significant other or family member a link to our 2022 EDC Christmas Gift Guide. You just might wake up to a very EDC Christmas this year.
2022 EDC Christmas Gift Guide
5.11 Tactical RUSH12 2.0 Backpack
A backpack is the perfect Christmas gift for the 2022 holiday season, especially the 5.11 Tactical Rush12 2.0 Backpack. With 24 liters of room, this high-strength, water-repellent 1050D nylon backpack is designed to carry all of your necessities be it for office use or outdoor activities. Included in this backpack are a hidden CCW compartment, a padded laptop sleeve designed to fit laptops up to 15 inches, a fleece-lined eyewear pocket, and a rear hydration compartment. This backpack has all the room to hold all of your goodies, no matter the environment. Be sure to check out the four colors it comes in: Ranger Green, Black, Double Tap, and Kangaroo.
The MSRP of the 5.11 Tactical RUSH12 2.0 Backpack is $100.00. For more information, visit 511Tactical.com.
Bond Arms Roughneck
Now that you have a brand-new backpack you will need something to store in the CCW compartment. The Bond Arms Roughneck is the perfect gun for the job. This derringer features a stainless-steel double barrel and frame that is compatible with all standard Bond Arms Barrels. Furthermore, this gun is built with a 2.5″ barrel chamber for 9mm, 357/38, 380ACP, or 45ACP. Compact yet rugged, this gun is definitely a necessity to own.
The MSRP on the Bond Arms Roughneck is $277.00. For more information, visit BondArms.com.
Xaegistac Shooting Eyewear
Eyewear is important and something that should never be forgotten, especially on this year's gift guide list. The Xaegistac Shooting Glasses are definitely the right pick for any shooter. They are designed with a soft rubber piece to aid in having a comfortable fit to avoid them from sliding off your face. This unisex protective eyewear also comes with a zipper hard case that will protect your glasses from damage, scratching, and dust. With a 4.5- out of a 5-star review on Amazon, these glasses can't be beat!
The MSRP on the Xaegistac Shooting Glasses is $11.99. For more information, visit Amazon.com
Halfbreed Blades CCK-02
Handy to have at home in case some boxes need opening or even for personal defense, having a knife is a necessity. The Halfbreed Blades CCK-O2 are designed for being a fast-access, multi-purpose compact clearance tool. These knives are crafted from K110 D2 tool steel that is made for durability and toughness. The Japanese-inspired blades have a low Teflon coating that mitigates glare and protects against wear and tear. When purchasing these knives, the CCK-02 comes in a foam-lined protective case that includes a warranty statement, certificate of authenticity, specifications card, morale patch, and vinyl sticker.
The MSRP on the Halfbreed Blades CCK-02 is $245.00. For more information, visit HalfbreedBlades.com.au.
Work Sharp Precision Adjust Elite Knife Sharpener
Stay sharp by keeping your knives sharp with the Work Sharp Precision Adjust Elite Knife Sharpener. This knife sharpener is an angle-adjustable knife system that gives precision and repeatability to anyone looking to take care of their knives. The sharpening angles can be adjusted from 15 degrees to 30 degrees in 1-degree increments and will sharpen kitchen, outdoor, and EDC knives. It also includes 220, 320, 400, 600 & 800 grit diamond plates, ceramic plates, a leather strop, and a ceramic rod for serrations in this knife sharpener system. And do not worry about keeping everything organized and safely stored, this system also includes a carry case and Tri-Brasive storage rack to keep your belongings together.
The MSRP on the Worksharp Precision Adjust Elite is $139.95. For more information, visit WorksharpTools.com.
Garmin tactix 7 Standard Edition Smartwatch
This solar-powered GPS smartwatch is bound to make it onto anyone's Christmas wish list. The Garmin tactix 7 Standard Edition will help you locate the world around you with its multi-GNSS support and outdoor sensors. Even more impressive is the battery's 37-day lifespan in smartwatch mode. Other features include mapping, music, and the ability to get notifications with your compatible smartphone – all at the touch of your wrist. This smartwatch also comes in different editions such as Pro Edition, Pro Ballistics, and Pro with Nylon Band Edition.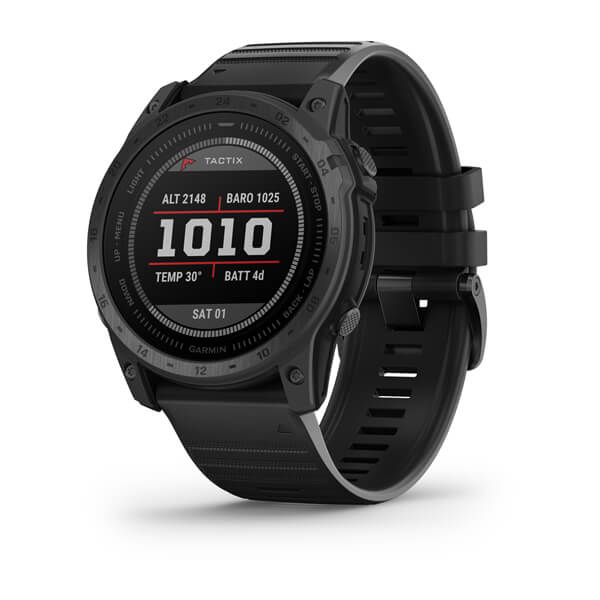 The MSRP of the Garmin tactix 7 Standard Edition is $1,099.99. For more information, visit Garmin.com.
Olight Baton 3 Rechargeable EDC Flashlight
A rechargeable flashlight? Yes, please! Power outage? Car broke down in the middle of the night? Taking a walk in the dark? The Olight Baton 3 Rechargeable EDC Flashlight is up to the challenge with its ultra-vibrant 1,200-lumens. Even better, the incorporated pocket clip makes this device conveniently hands-free. Plus, having 94 days of battery life makes this flashlight a dependable companion in all low-light conditions.
The MSRP on the Olight Baton 3 Rechargeable EDC Flashlight is $99.95. For more information, visit OlightStore.com.
Leatherman Curl
Having a tool on hand is always a good idea, but how about 15? The Leatherman Curl is up for just about any job and can be opened and operated with one hand – making it ideal for situations where multitasking is necessary. The tools can be easily accessible when open or closed and also comes with a removable pocket clip.
The MSRP on the Leatherman Curl is $89.95. For more information, visit Leatherman.com.
Fix It Sticks Compact Pistol Kit
Alright, you have your Bond Arms Roughneck, now you need a Compact Pistol Kit to keep up with its maintenance. This lightweight kit includes 12 tools and 12 bits that are needed to fix, maintain, upgrade and modify a pistol. Let's not forget the Mini All-In-One Torque Driver that is included so you can easily tighten your pistols' sights and accessories to the correct torque. Furthermore, the Handgun and Optics Toolkit is made for effortless travel, ensuring you are covered for all of your pistol maintenance necessities.
The MSRP on the Fix It Sticks Compact Pistol Kit is $180.00. For more information, visit FixItSticks.com.
Subscription to Personal Defense World Magazine
Stay in the loop with a subscription to Personal Defense World. With this subscription, there is more than enough information to go around and you don't want to miss it! Six issues of the latest firearms, knives, self-defense, and more are right at your fingertips. Not a fan of reading print? Do not worry, a digital subscription package is offered at a discounted rate!
The MSRP on a one-year subscription to Personal Defense World Magazine is $35.97. For more information, visit OutdoorGroupStore.com.
5.11 Stocking Stuffers
Last but not least, you can't forget the stocking stuffers! Personally, I think the stocking stuffers are the best part of Christmas. Plus, you already have the cool goodies picked out and put under the tree, you do not want to leave the stocking either empty or full of useless items. Here are four helpful tools that everyone needs on hand!
1 – EDT HEX – Keep those pesky bolts and screws tightened and secured with the EDT Hex. The four tools that attach to your keychain include a flathead, Phillips, T6, and T8 Torx. MSRP: $16.00
2 – EDC K-USB Flashlight – No matter the size, this EDC K-USB flashlight will do the job of lighting up your path. Able to be readily stored on a keychain, this 150-lumen flashlight is USB-C chargeable. MSRP: $32.00
3 – EDT Rescue – You never know what can happen on the road, especially when it involves life or death. The EDT Rescue is made with durable stainless steel and has a carbide tip that can shatter tempered automotive glass. Furthermore, if you ever find yourself in a scary situation and need to cut your seatbelt, the web cutter will gladly take care of that for you. MSRP: $15.00
4 – EDT Pry – Sometimes things just need an extra nudge and the EDT Pry has you covered. This keychain carry tool is constructed from durable stainless steel and includes a pry tip that also serves as a flat-head screwdriver in a pinch. MSRP: $15.00
The MSRP on the 5.11 stocking stuffers varies by product. For more information, visit 511tactical.com.
It seems like every year I am always rushing around trying to pick out the perfect Christmas gifts or even struggling to think of ideas for myself. Well, not this year! This year I am covered with the 2022 EDC Christmas Gift Guide. From backpacks to hold all the goodies you could dream of to new self-defense and maintenance tools, I have plenty of options to choose from this holiday season and so will you. Furthermore, be sure to save these ideas in the near future as they can also be used for birthday presents and other holidays as well!
Didn't find what you were looking for?